Front Drum Bearing
$
59.76
In Stock
Product Description

Located on the inside of the dryer front panel, the front drum bearing helps your appliance to operate as quietly as possible. It allows the front of the drum to glide smoothly on the felt seal of the front panel when the drum is rotating. This manufacturer-approved part is made of a durable white plastic and measures approximately 9 inches by 20 inches. If your dryer makes a continuous banging noise while it is powered on, it is likely that the drum bearings need to be replaced. Keep in mind that the drum slides should be replaced at the same and will need to be purchased separately (the front drum bearing holds 4 glides), as this part includes the bearing only.

Works with the following brands

General Electric, Hotpoint, Kenmore

Works with the following products

Dryer, Washer Dryer Combo

Fixes the following symptoms

Noisy, Marks left on clothes, Will not tumble, Takes too long to dry

Part Number Cross Reference

Part# WE3M26 replaces these:

AP3790641, 1089201, WE3M26, WE03M0020, WE3M20
Product Description
Located on the inside of the dryer front panel, the front drum bearing helps your appliance to operate as quietly as possible. It allows the front of the drum to glide smoothly on the felt seal of the front panel when the drum is rotating. This manufacturer-approved part is made of a durable white plastic and measures approximately 9 inches by 20 inches. If your dryer makes a continuous banging noise while it is powered on, it is likely that the drum bearings need to be replaced. Keep in mind that the drum slides should be replaced at the same and will need to be purchased separately (the front drum bearing holds 4 glides), as this part includes the bearing only.
Works with the following brands:

General Electric, Hotpoint, Kenmore

Works with the following products:

Dryer, Washer Dryer Combo

Fixes the following symptoms:

Noisy, Marks left on clothes, Will not tumble, Takes too long to dry

Part# WE3M26 replaces these:

AP3790641, 1089201, WE3M26, WE03M0020, WE3M20
Videos
For installing this part.
Replacing your Front Drum Bearing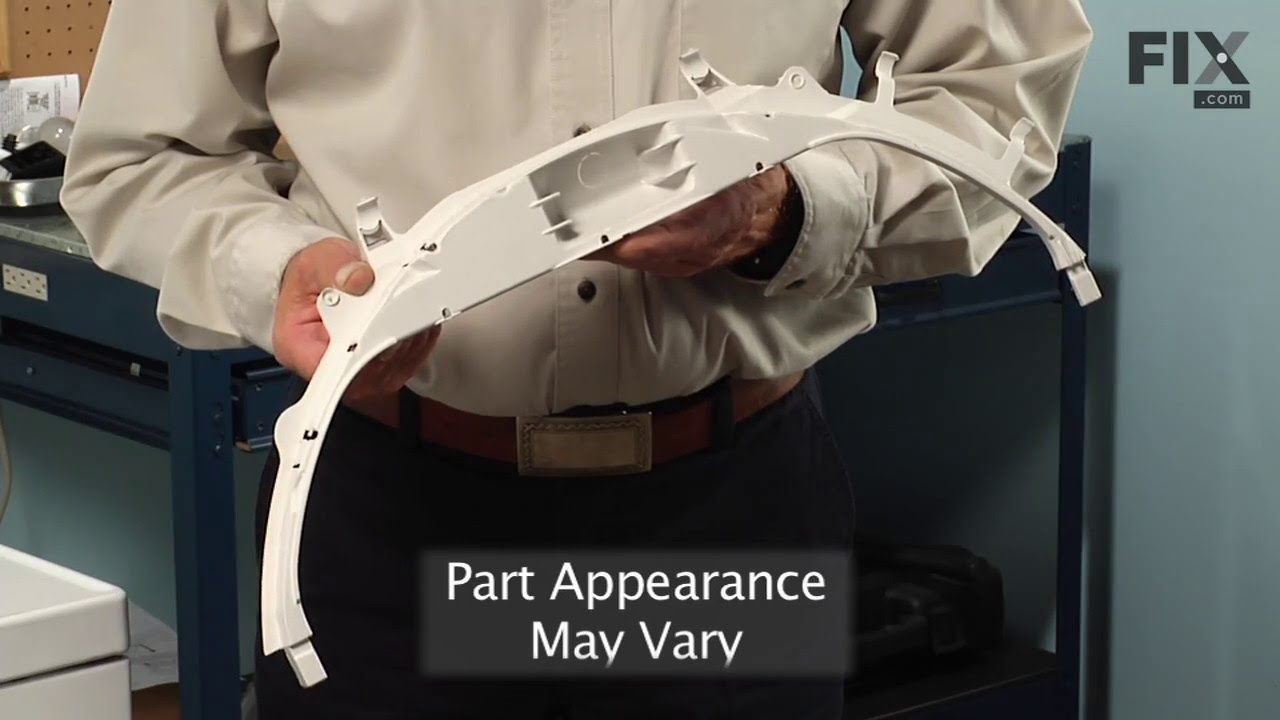 Questions and Answers
We're sorry, but our Q&A experts are temporarily unavailable.
Please check back later if you still haven't found the answer you need.
Related Parts
Additional or alternate parts to consider.
Installation Instructions
Provided by Fix customers like you.
Average Repair Rating: 4.2 / 5.0, 22 reviews.
Sorry, we couldn't find any existing installation instruction that matched.
Your search term must have 3 or more characters.
Keep searches simple. Use keywords, e.g. "leaking", "pump", "broken" or "fit".
Sorry, we couldn't find any existing reviews that matched. Try using some different or simpler keywords.
Verified Purchase
Front Drum Bearing Replacement
I reviewed the video's on replacement of this part and also installing the bearing strips. It was very easy to make this replacement. I would recommend removing the 4 screws in the control panel prior to removing the top cabinet. The installation of the top cabinet is so much easier to replace with the control panel loose. I also found out that the felt pad seal also needed to be replaced as this was impacting the exhaust air flow.
Bessie T
-
January 16, 2020
Verified Purchase
Home owners
Just in time love fix. Com
Model Compatibility
This part works with the following models:
Fix Number:
FIX960316
Manufacturer Part Number:
WE3M26
Brand
Model Number
Description