Find Your Model Number | Fix.com
Make a selection below to see common model number locations for your product.
Your Model Number Could Be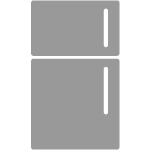 Behind the kick plate
On the inside left or right wall of refrigerator or freezer
On the cabinet door jamb
Behind a lower crisper drawer
Sample Model Number Tag
The model number will most likely appear on either a paper sticker or a metal plate.
Model numbers can be made up of numbers, letters, or a combination of both such as "1005400" or "LAT100AAE".
They may also include the brand name or a year of production such as "16400 3900001-3999999 – 1993" or "2150LE-PREDATOR TYPE 1".