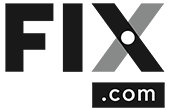 The Fix App
The one place for managing, maintaining, and repairing
everything in your home.
Just Snap a Picture
​The Fix App can identify anything with a model number.
And if the serial number is included too, we may be able to tell you the age and expected life.
​Simply snap a picture of your home appliances, electronics, power tools… you name it.
Anything with a model number can be identified.
The Internet is a Messy Place, So is the Junk Drawer
Problems don't always happen when you have the manuals handy. And the last thing you want to do is waste days searching through Google, YouTube, or the dreaded junk drawer. You know the one.
With the Fix App, everything you need to manage your home is right at your fingertips.​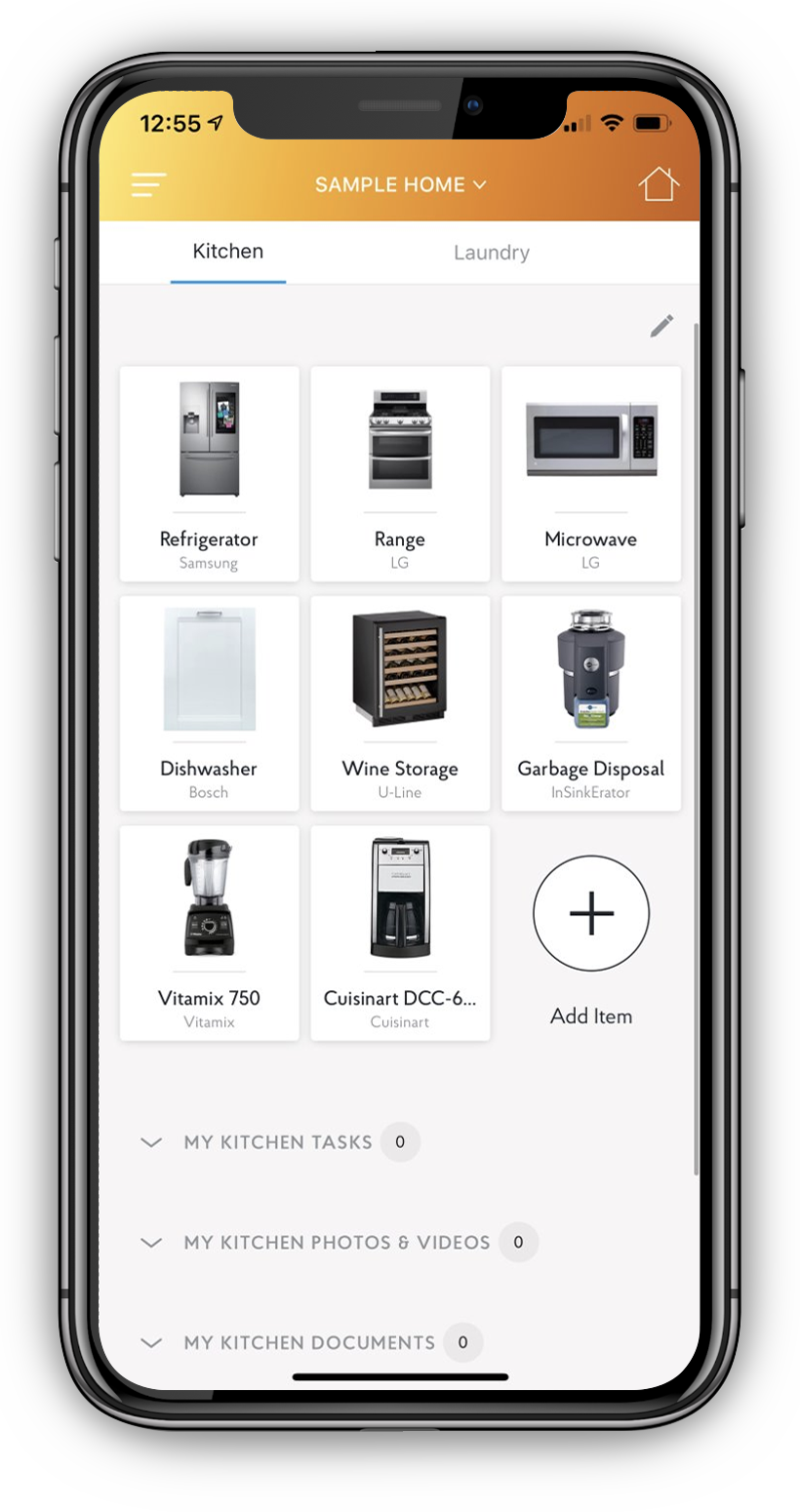 Everything you need to know
With the Fix App, everything you need to manage your home is right at your fingertips.​
No more Part Number Panic
Looking for the right part for your model? Order your repair parts from fix.com right from inside the app.
No need to panic, we've got it!​
Recalls are No Longer a Mystery
Half of all American homes contain a safety recalled product. The Fix App searches for and notifies you of any recalls for added products and provides continuous 24/7 recall monitoring.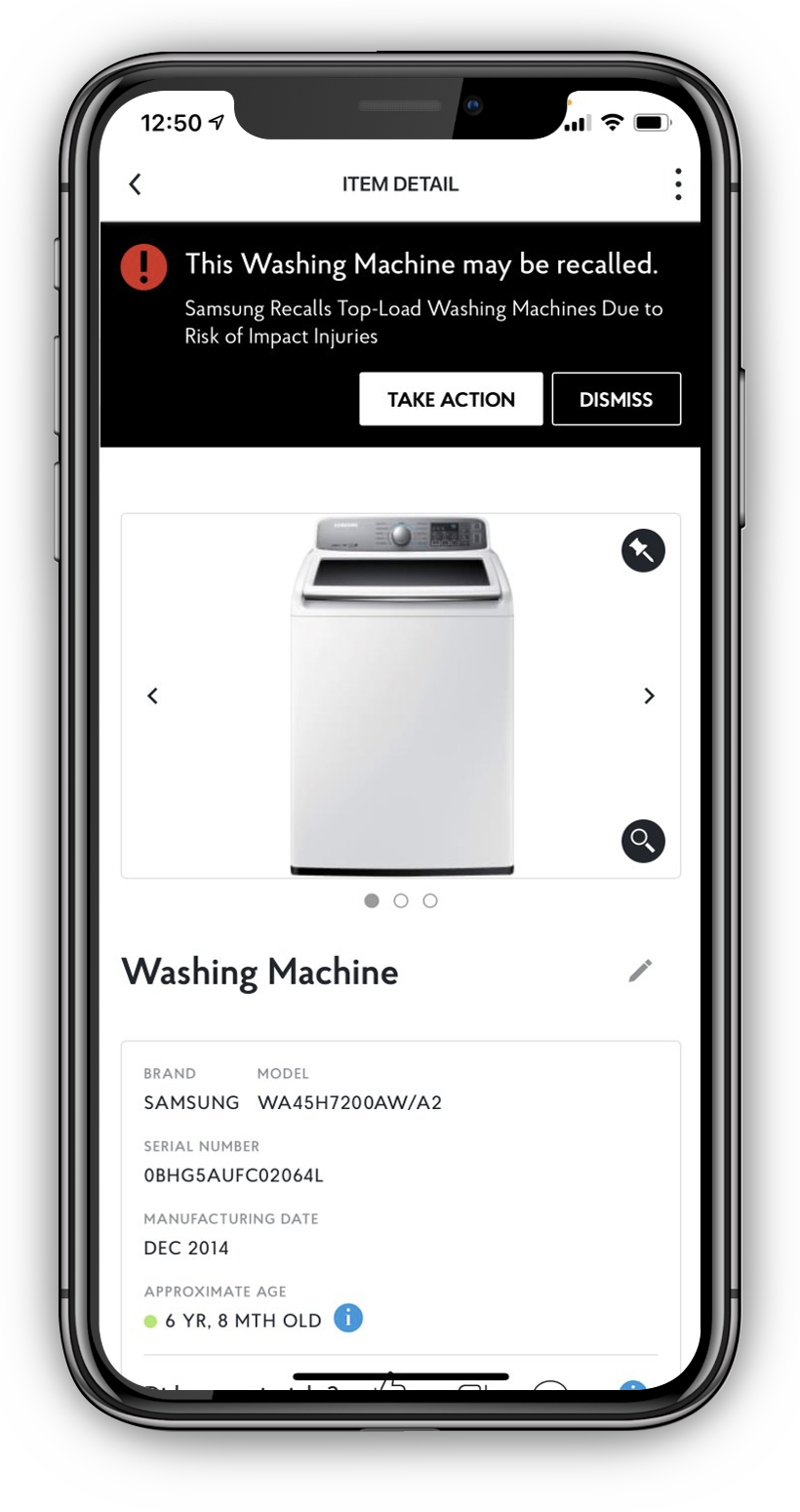 Home Maintenance on Auto-Pilot
Everyone wants to protect the things they own. But life gets in the way and home maintenance isn't always top of mind. Leave it to the Fix App to remind you exactly what to do, when to do it, and even show you how.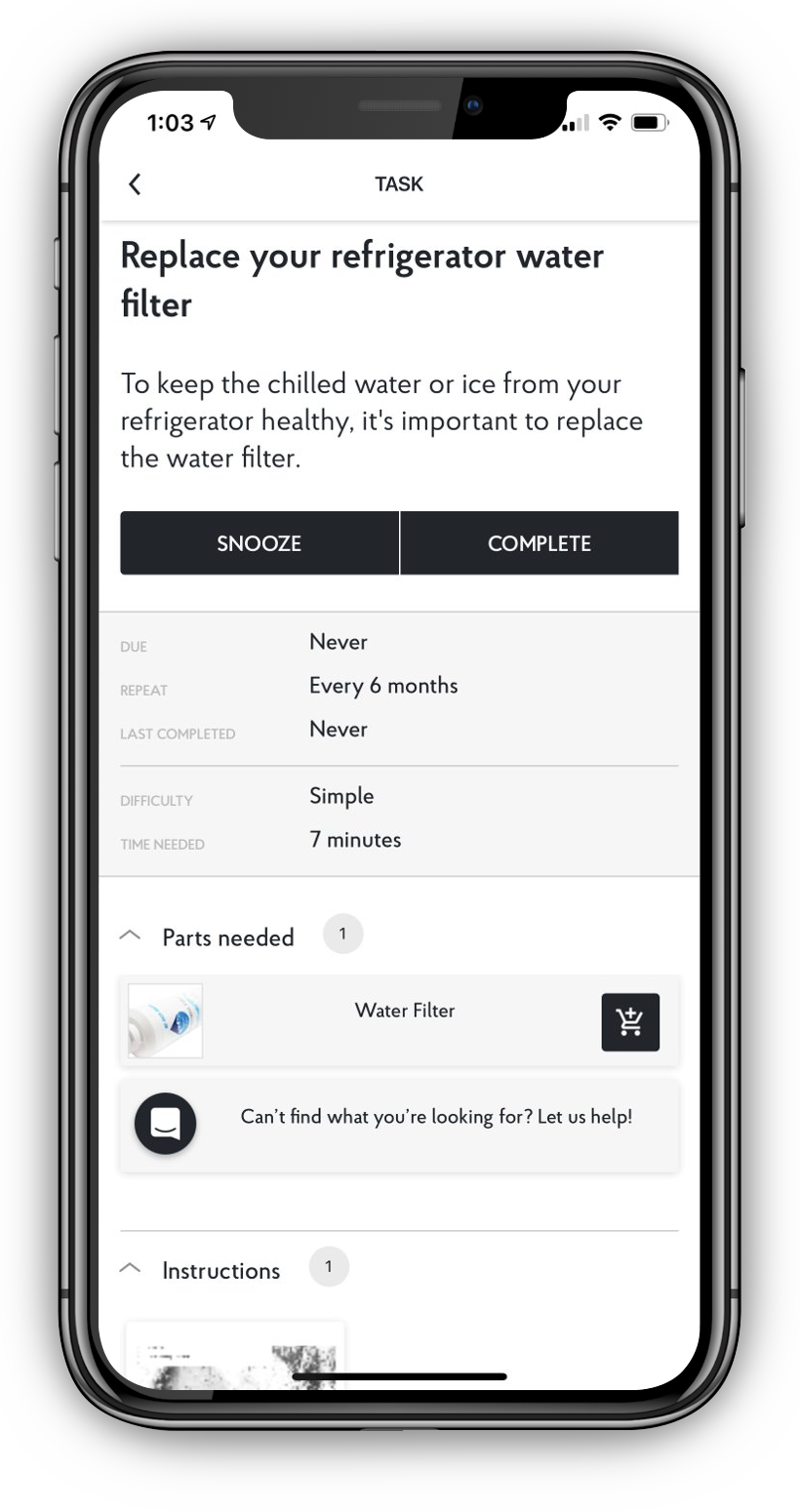 Getting Started
Getting Started with the Fix app - Build your home inventory
Tips, advice and suggestions on how to get started with the Fix app by adding your top 8 appliances and items.
Fix makes it easy to build and maintain an inventory of all the important things in your home. Beyond adding your major appliances and things with an "on" switch to the Fix app, you can also add other items such as sporting and fitness equipment, watches and jewelry, artwork, and more, just by taking a photo.
How do I get started with the Fix app?
Start with the 8 photos that will begin building the smart user guide for your home:
Refrigerator
Stove
Dishwasher
Microwave
Washing Machine
Dryer
Water Heater
HVAC (air conditioner and heater).
How do I add these photos?
Open the Fix mobile app.
Click in one of the predefined groups OR click the black

Plus (+)

icon that appears on the Home screen. If you select a predefined group, we also provide item suggestions in each group. You can click one of the options or click the Add button from the Group screen.
Select

Use Product Label Photo*

or

Type Manually

.


Use Product Label Photo:

Take a photo which clearly shows the manufacturer and model number of the item. Type Manually: Type the manufacturer and model number in the fields as prompted.
Follow the steps on screen to complete adding the item. Please be aware the item recognition is not instant in the Fix app. We want to send back quality results, so it may take 24 - 72 hours before your items are completely updated.
*Note that we cannot identify items from a barcode scan, QR code, or from the serial number alone.
What's Next?
Wait for our system to return manuals, videos, parts and accessories. The Fix app will bring you lots of useful stuff - including digital user manuals, how-to videos, a list of parts and supplies for common repair and maintenance tasks and more.
Add your own content while you wait. You can add in your receipts, photos, documents and personal notes for your items.
Explore other parts of the app. Add your service provider contacts.
Check back for your completed content.
- If your items no longer say "Processing" open them up to see what documents and other information was returned.
- Contact us if anything is missing, incorrect, or if you want us to look for more.
- Order parts and accessories through the app.
Keep adding more items. You aren't limited to adding your major appliances to the Fix app. Keep adding your small appliances, electronics, tools, supplies, sporting equipment and anything else to the app to build your inventory. If they're available, you will receive manuals, instructions, videos, and other information for your items.
More Tips
You can type in Manufacturers and Models manually to add items, or you can add a product label photo for items that do not have an "on" switch. We try to find information for everything that you add to the Fix app, but we can't promise that we will find everything. At the very least, if you add your items you'll know exactly where to turn when you need to know the serial number, what parts are needed, or any other information that you add about each item.
Once you've entered your items, don't forget to add receipts or other documents about the items, like appraisals, that can help prove the value of the items in your inventory.
Once you've built your inventory, keep it constantly up to date: whenever you bring anything new home, add it to the Fix app right away.
Contact us and we will send you a report of what you have added in the app including all model numbers and serial numbers. This is great for insurance reporting and your home inventory. Just send us a request at appsupport@fix.com.
Get the Right Parts and Supplies
Tips, advice and suggestions on how to order parts through the Fix app.
Stop wasting time tracking down annoying details like exactly which water filter you need for your refrigerator.
The Fix app provides lists of parts and supplies that are specific to your items, like air and water filters. Make fewer trips to the hardware store or simply use the "Buy" link to order online and save your Saturday for something you'd rather be doing!
To order parts:
Log in to the app.
Open the item that you need to order parts for.
Scroll to the Parts & Accessories section.
Tap on the part that you want to order.
Schedule Maintenance Tasks
Maintenance and task reminders.
Create Your Own Tasks and Reminders
Open any item that you have added in the Fix app.
Navigate to the My Tasks section
and tap the

"Add a Task"

icon.
Fill in the fields as needed then watch the magic happen when the task comes due! You will receive an email and notification 7 days prior to the due date, on the due date, and 7 days after the due date if the task is not marked completed.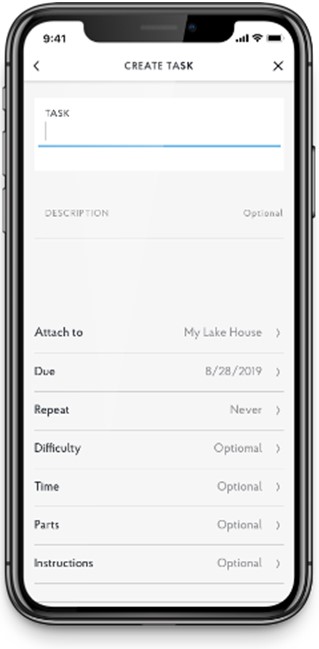 Curated Reminders
The only reminder that we currently create for you is to change the water filter on refrigerators. If your refrigerator uses a water filter, open the app, navigate to your fridge, scroll down and you'll see the new My Tasks
Change the Due Date
Since we didn't know when you last replaced the water filter, we started the clock now to remind you in six months. But there's a good chance you didn't replace the filter just now. So here is how you can change the due date: navigate to the task inside Fix and tap the SNOOZE button, then pick the option to set your due date. You should replace your water filter every six months.
If you don't use your water filter or your fridge doesn't have one, you can snooze the task forever. You should also let us know so that we can double check that we have the correct information about your model.
Keep Track of Service Providers
Have you ever had a great plumber, painter, or contractor and wanted to use them again, but couldn't find their contact info? You aren't alone. Service calls are often so infrequent that homeowners regularly lose the info of providers they want to use again.
The Fix app makes it easy to store the contact information for everyone who has done work on your home, so it's always handy the next time you need it.
To add a service provider in your Fix app account:
Select Service Provider from the menu and click "Add New Service Provider".
Fill in the details and save.
Frequently Asked Questions
What is a product label, and how do I add one?
A product label, also called a product identification label or nameplate, is the label all manufacturers must affix, by law, to convey the make, model, serial number, and safety certificate of an item. Everything with an on-switch has one. On most appliances, the product label is located inside.
For example:
Refrigerators

- typically on the inside of the main fridge area on a side wall or the ceiling

Dishwashers

- on the inner edge of the door

Ovens/Stoves

- on the inside of the door or on the broiler drawer

Microwave

- on the inside of the door

Small Appliances

and

Small Electronics

- on the bottom or side
How do I add my things to the Fix app?
The Fix app makes it easy to add your items by allowing you to take a photo of the product label, submit it in the app, and we do the rest. To add your items:
Select one of the groups from the Home screen. Ex. Kitchen.
Tap one of the suggested items to add or tap the Add Item button.
Select "Take a Photo" (Product Label or Model Number)
Capture the photo or select an existing photo from your photo roll.
Click Done and wait for the magic to happen!
When taking a photo of your product label, be sure to get a clear photo of the manufacturer and model number. If you can't see this information clearly in your photo, we won't be able to read it either. Note that we cannot identify items from a barcode scan, QR code, or from the serial number alone. We must be able to fully visualize the model number in the image. We will then transcribe the model and serial number and provide as much information about the item as we can. Item processing may happen immediately or it could take several hours or days depending on our backlog.
How do I add a product label (nameplate) if I can't get a good photo of it?
If you know the manufacturer/brand and model but are unable to get a photo of the product label, you can write it on a piece of paper and snap a photo of the piece of paper. If you need to manually enter the manufacturer and model number for items, you can click the large black plus button, select the button to "Type Manually", and type the information in the fields.
Once you add an item, you will see that it is "Processing".  It can take anywhere from a few minutes to a few days to return a stock photo and information for you.
Advanced tips for adding items
Manual entry, items recognized immediately, adding furniture, no image or info returned.
There are some categories of items that we don't necessarily find content for. These items may not have user manuals or model numbers, but you still want to keep track of them perhaps for insurance purposes. If you want to add items such as jewelry, art, or other things for your personal inventory here are the steps:
Add the item by image, then tell us what it is
After selecting the "Add" button, select "Take a Photo".
Snap a photo of the item or select it from your photo roll.
After adding the item, select "View Item".
Select the pencil icon and type in the category under "What is this?" If you type "Other" or "Personal" or "Art" or some other category that we don't find information for, that will flag the item and we will not try to process it.
Manual Entry
You may notice that when you manually enter some items, they are recognized immediately. That means it's already in our database.
If this happens, and you have a model number, you can change the category to "Other" and you'll notice that the banner will change. This means that we will not attempt to process the item and find more information for you.
Self-Assembly Furniture
If you want to enter self-assembly furniture so that we send back the assembly instructions (such as IKEA or Office Depot), please note that they do have an Article ID or a Model Number. If you only enter the series name, we can't identify which product it is. If you give us the Article ID, then we can pinpoint exactly which one it is and locate additional information for you.
Processing Time
Note that if you are adding items using a product photo, there may be a wait in getting information back for those items. The image must be recognized and matched, after that our system finds the manuals and other information for the items.
What is a product recall and how does it work?
The Fix app can notify you about product recalls
Did you know that there are 50 million recalled products in homes across America that have caused injuries and property damage, but have never been identified and returned?
We didn't either. That's why we made it super-simple for you to find out if you have any safety risks in your home. With the Fix app, all you have to do is tap the "+ button", select "Add Appliance/Item" and take a picture of the product label or anything else that shows us the make and model.
From there, we run every submission against the US Consumer Product Safety Commission (CPSC) Product Recall Database to check if it's been recalled. If it has, we'll let you know, and we'll point you to where you can get it taken care of.
Can I use the Fix app on multiple devices or share the information?
Using the Fix app on more than one phone or device.
The answer is yes!
Your app account gives you access to the same information across devices using one email address and password. You can access it on multiple phones, across Android and iPhone, and on iPad.
If you want to share your account, you just add everything under one property address and then allow those that you are sharing with to log in with your email and password. Anyone can be logged on at the same time and adding items that can be viewed across all devices.
How do I add my personal content to the Fix app?
Add photos, videos, documents, receipts, notes, and other information.
You can use the Fix app to create a complete home inventory by taking pictures, uploading documents, and typing in notes. Keep your receipts, home records, and other important information with the property, the group or with each specific item. Then you can recycle the hard-copy and take a big step towards clearing your paper clutter.
Regardless of what you want to add, you can do it all by:
Navigating to the desired section.
Open a group or item and go to the section for the content you want to add.
Click the

Add

icon at the end of the section.
Upload or add the item.
Please note the following:
You can add PDFs or Images under the

My Receipts

or the

My Documents

section using the steps outlined above.
You can add photos or videos in the

My Photos & Videos

section.
Type anything in

My Notes

and even include URLs.
Typically, we cannot identify products from a barcode scan, QR code, or from the serial number alone.
Can I back up my information from the Fix app?
Backing up / exporting / printing / saving the information or data that you put in the Fix app.
Export/Save/Back Up
Contact us and we will send you a report of what you have added in the app including all model numbers and serial numbers. This is great for insurance reporting and your home inventory. Just send us a request at appsupport@fix.com or make a request through the "Export My Inventory" menu option in the app.
Where your Data is Stored
We keep your information backed up and secure in the cloud, so you can access it from any supported mobile device through your account. Your information is attached to the account, not your device, so you do not have to worry about losing information if you lose your device or something happens to it.
How do I delete content from my account?
Deleting a photo, document, video, receipt or note.
Open the content that you want to delete.
Select the

Pencil

(edit) icon.
Click the Delete button.
How do I delete my account?
Delete your account by navigating to Account Settings on the menu. There is a Delete button at the bottom. You can also contact us at appsupport@fix.com if you have issues or need other help. Make sure that you click the "unsubscribe" link in any emails that you receive from us after deleting to ensure that you are removed from our mailing lists. You must also delete the app from your device as a separate step.
Please note that unsubscribing from emails does not prevent you from using the app, so feel free to adjust your email preferences while continuing to use the app.
How do you store my information, and how secure is it?
Your information is stored "in the cloud" instead of on a local server. If you lose your phone or if you don't have enough space, your account and its contents are accessible from anywhere.
Along the same lines, your account can be accessed on multiple devices: both Android and iPhone, and on iPad. If you want to share information with someone else, use one account and log in to that account on your separate devices. Your account is, of course, password protected. You can make as secure a password as you can. Using a strong password is also important to protecting your data.
How do you store, use, and share my information?
We take our users' privacy seriously. Fundamentally, if we don't protect our users' privacy, we don't have a business. However, we believe that providing users with targeted, relevant information to help them better manage their homes and the specific items in their home is of value to many people. Our job is to protect users' privacy while delivering relevant, meaningful information, whether from Fix or one of our partners, to help make the homeownership experience better and more efficient. We invite you to read on about how we use and share your information.
Personal Identifying Information
Name: Not required. You can optionally enter it as part of your profile.
Address/Location: Not required. You can optionally enter it as part of your profile.
Zip Code: Required to create an account.
Email: Required to create an account.
Phone Number: Only collected if you make a purchase.
Your Content and Your Things
The purpose of the Fix app is for you to create a personal library for your home.  As such, you might add:
Manufacturer, Model Number, Serial Number, Purchase Date for Appliances, Small Electronics, Tools, Equipment, and other products or items.
PDF files (electronic upload)
Personal Photos and Videos (electronic upload)
Notes (typed in text or URLs)
Receipts (electronic upload)
Service Provider Contacts (contact information)
You will not receive SPAM or unsolicited contact from anyone due to using our app. You may opt out of any communications from Fix.
What Is Shared?
Manufacturers and model numbers may be tied to the zip code where they were added. This information may be shared with manufacturers and other third parties. This information is never personally attached to any user when shared.
Why Does Fix Need to Share Anything?
The ability for the Fix app to use information about the products that you add in the application is fundamental to our ability to deliver features and services that are the basis of the app. Either now or in the future we may use manufacturer, model number, purchase date, and in rare cases serial numbers to:
Check the CPSC database of recalled products to provide you with product safety recall notifications.
Inform repair professionals at your request what needs repair so that they can remotely diagnose problems or offer repair estimates.
Inform you at your request when your products are at the end of their useful life and/or connect you with manufacturers who may present you with a discounted offer to replace your appliance.
Offer the ability for you to register your products with the original manufacturer through the Fix app.
Offer services such as home warranties or preventative maintenance through the Fix app.
Contact Us
Call Center Hours:
Daily from 8am - 10pm EST